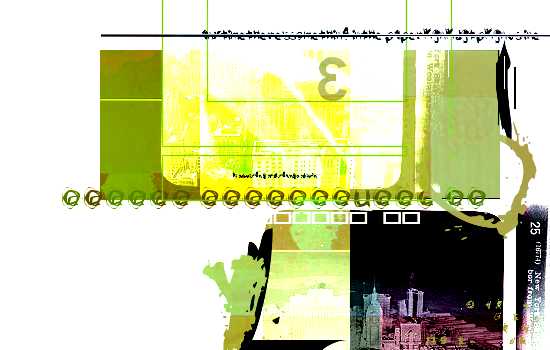 COMMERCIAL LANDSCAPE ARCHITECTURE
The term commercial landscape includes many segments of commercial landscape architecture. Land Art Landscape Architecture is qualified, skilled and experienced in all areas of landscape design with a focus on extraordinary landscapes. Our clients qualify themselves by undestanding the benefits of quality creative design and its ability to be magnetize customers. Our commercial landscape designs are iconic landscapes, landscapes that embed into the memory of the viewer.

COMMERCIAL LANDSCAPE ARCHITECTURE SEGMENTS



apartment communities landscape architect
condominiums association landscape design
storefront design
business identification sign design
entry feature design
roadway landscape design
luxury resorts landscape architecture
theme park landscape architecture design
landfill landscape design and landfill closing
residential communities landscape architecture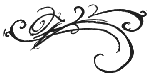 LICENSED COMMERCIAL LANDSCAPE ARCHITECT
Land Art Landscape Architecture has licensed landscape architects who will sign and seal your plans for permit submission. After your Licensed General Contractor Commercial submits the plan set for permit, your city or county building department will review the set and provide comment. In an ideal world the permit will be issued with no comment. If the agency does have comments, our Landscape Architect will make any necessary adjustmetns to the plan set and provide for re-submission. In certain cases the adjustmetns may be made by hand on the plan set at the permitting agency to expedite the approval.

As landscape and environment are becoming hot trending topics many cities and county agencies are responding by requiring that landscape plans be prepared by a licensed landsce architect. In the past it was acceptable by some communities to allow engineers to prepare landscape plans. This resulted in mundane struggling landscapes as these engineers were merely selecting plants from a list without consideration of exposure, soil and site conditions or aesthetics. Many of these government reivew agencies are no longer accepting landscape plans prepared by engineers it is imp.

Communities that have consistently required landscpe plans by licensed landscape architects have developed to be communities that prosper. These communities have a consistant canopy cover, vibrant commercial core, top rated school, parks and social systems. Communities that have traditionally accepted plans provided by engineers tend to be less desirable with many failed systems.

Well planned and successful landscapes must include a thoughtfully designed tree canopy. It must be noted that successful, vibrante and economically advantageous communities worldwide are communiteis containing that protect and enhance their tree canopy. Adversely, struggling communities lack tree canopy and do not have any protection in place.

As a business owner, developer, development attorney or other interested party you must ensure that your commercial landscape design professional is a licensed landscape architect. As the state of Florida and many other states allow the practice of "landscape designer" a differentiation must be made.

To learn more about the benefits of hiring a licensed landscape architect please go to our DESIGN PAGE.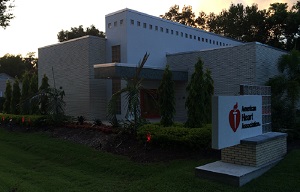 THE AMERICAN HEART ASSOCIATION, ORLANDO FLORIDA
SIGNAGE DESIGN BY: LAND ART LANDSCAPE ARCHITECTURE
LANDSCAPE ARCHITECTURE BY: LAND ART LANDSCAPE ARCHITECTURE BUILDING ARCHITECTURE BY: ARQUITECTONICA.



SIGNAGE DESIGN
One of the first images that a potential customer will embed into his or her memory of your business is your sign. Your storefront sign design will say more about your business that what is printed upon it. Your sign and its design make a statement about the care that you will take with your customers. A simple vacuum form plastic sign will state that your willing to do the bare minimum, anything beyond that can not be expected and will not be provided. This may also convey the expectation of the business and its permanence or longevity expectation.

Stores and businesses that are temporary or seasonal will display banner signs strung across a storefront which immediatly convey to the customer to stop now as they will not be a long term venture. A simple vacuum form sign is only one level above the banner and will be viewed as a chance venture by the community that it serves.

An iconic sign will display long term intentions and community appreciation to the community that it serves. One example of this is the fall iconic sign of Merita Bread which Orlando lost to the Morse Museum on November 13, 2014, its last day in public display. Other historic iconic signs located in Orlando are The Plaza Theater, The Parliament House Resort, LaBelle Furs, Stewart Jewelry, Adair Cleaners, College Park Publix, Colonial Photo and Hobby, Beefy King, Western Way Shopping Center, Skycraft Surplus, Holler Chevrolet, McNamara Pontiac, Wally's Mills Avenue Liquors, Hot Dog Heaven, and many others. Consider how many of these mentioned business that you are familiar with. Their Iconic signage design is what differentiated them from the mundane and assisted in their success over time.

Some more recent additions to the iconic signage category in Orlando are Infusion Tea, Hubbly Bubbly, American Heart Association, Hillstone, IKEA, Floyd's Barber Shops, and Black Bean Deli. Not all of these business have giant sized signs, yet all are the new icons of central florida, all have reached landmark status.

What differentiates these businesses from every other business in Central Florida is that they have trusted their storefront and signage design with a licensed landscape architect who has considered every aspect of their storefront designs and customer experience. As landscape architects we are experienced at working with your architect or your existing architecture to achieve the perfect experience for your customer and create another of Orlando's next generation landmarks.


ORLANDO FLORIDA FARMERS MARKET CONCEPT DESIGN 2015


about
projects
contact
main


COMMERCIAL

FLORIDA COMMERCIAL LANDSCAPE ARCHITECTURE
BY: LAND ART LANDSCAPE ARCHITECTURE
some insight on landscape design and commercial properties
APARTMENT COMMUNITIES AND CONDOMINIUM LANDSCAPE ARCHITECT

Apartment community developers are beginning to realize that they have been developing mundane boring communities for many years. The current trend is more modern and retro design abandoning the kitch design of the 2000's and designing communities where people want to live. Beginning in the 1980's and throughout the 2000's the trend in apartment communities was more mouth than merit. The developers built piles of boring and depended upon real estate agents and sales offices to promote and sell the illusion. These sales people and advertising budgets replaced the need for design professionals.

This bait and switch philosoply coincided with the invention of Auto CAD technology and allowed design professionals to increase profit levels and decrease work loads. With a simple copy and paste and a text edit a new apartment community was born. This still continues yet some developers have taken pride in their communities and understand the benefits of professional design. Once again, iconic signs are being created for iconic apartment communities.

The battle for better design is not over yet. Many greed machines invest as little as possible and are only willing to do the bare minimum. Negotiating design fees, battling develpment standards and even battlign the communities in which they intend to integrate into. Investing in attorneys instead of design only creates enemies within their proposed community, alienating their future residents. This also builds bad will within the design review community and qualified design professionals tend to over price their proposals with such developers to prevent them from injecting themselves into certain developers controversies.

Some time during the late 1990's and early 2000's it became a design trend to paint everything in shades of brown or drab yellow's. This lack of color consultation prior to painting a commercial building resulted in depressed communities that all look the same. What we refer to as the 'Wal Mart Color Palette' began to cover our communities. Even Publix Super Markets who were traditionally a clean white establishment adopted the 'Wal Mart Color Palette' destroying a part of the charachter of their clean stores reputation. Rule Number 1, always opt for super white when in doubt of color selection.

Understanding the fabric of the community in which a proposed apartment community is being designed for and placing the appropriate skin on to that apartment community is one of the main ingredients ot a fully occupied and healthy apartment community. Add iconic signage design to that community and it will be warmly welcomed into the community into which it is being placed.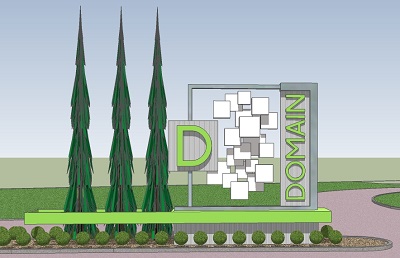 APARTMENT COMMUNITY ICONIC SIGNAGE


HOMEOWNERS ASSOCIATION LANDSCAPE DESIGN
Homeowners communities may determine the need to re-design their entries as they may have not been designed as icon features and time has dated them. These decaying entries reflect upon the property values of each home within the community. A professional re-design of an entry can immediately result in a percieved increase in property values and result in an actual increase in home sales price points.

You may wonder, with this common sense fact and understanding why do so many community entries look unappealing, dated and or decaying? The unfortunate circumstance that in most cases the person or persons in charge of making decisions about community common areas are typically not the people who should be making such decisions. Now that we have stepped on toes, anyone who is still reading this article must have a true understanding of design and a genuine care for the cure of their communities situation.

As a result of this circumstance Land Art Landscape Architecture insists that all initial meetings with Homeowners associations, property owners associations, community associations meet certain requirements including a public meeting with the members of the association and a fee for such meeting. This is in the best interest of investing our valuable time with clients who are concerned with design and the results of qualified design.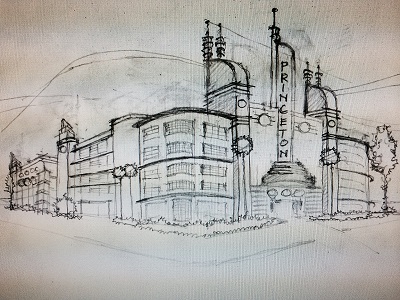 CONCEPTUAL DESIGN FOR THE PRINCETON, A COLLEGE PARK APARTMENT BUILDING


STOREFRONT DESIGN
Design of storefront differs depending upon what the starting points is. A store owner may be building from scratch or starting with an existing location or taking over a location and renovating to suit thier needs. All three scenarios require a different thought process and skill set when considering the storefront design. As storefront design landscape archtiects we consider budget, material availability and lead time, the existing architecture of the community as well as architecture of the subject building as well as the target customer and what attracts them.

Catching the eye of passing motorists and pedestrian is a goal of the successful design, thus creating a landmark status to the user of your business location. The target customer must feel as if your storefront design presents a clean, safe and visually stimulating experience. If any of these three emotiosn are not met the passing customer becomes a missed opportunity and mental landmark status is not achieved. At Land Art Landscape Architecture our storefront designs result in extended customer experience, higher average ticket and return experiences for all of our commercial storefront design customers, turning your location into a landmark. Imagine your business as the cool place, you know, that place with the cool sign and lush landscape, yeah, I know that place... it is our next design customers storefront.

Starting from scratch provides for a collaboration between landscape architect and architect, to work toward the mutual goal of landmark status.

Upgrading an existing storefront always starts with the basics of clean doors and windows. Removing the posters, bills and other clutter is one of the basics of storefront design and a CPTED principal. Once the clean up is complete a new design can be developed for your storefront by Land Art Landscape Architeture. This new design will consider the architecture of your building as well as other design criteria that our customers indicate. Your design will result in a throughtful well planned design that creates landmark status for your business.

Taking over and renovating a location may begin with removing several layers of bad attempts to get to teh bones of the building. Once the true architecture is discovered the landscape architect can work toward designing with the architecture to develop landmark status considering the clients goals and design guidelines.

Understanding the benefits of professional design is a key to transforming a cliets business into a landmark. Once a business develops landmark status the owner will reap the rewards of their design investment.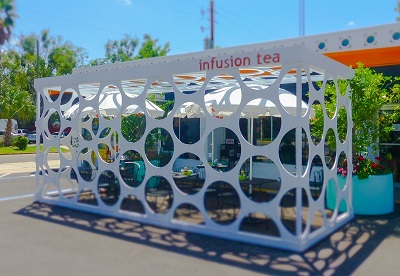 AL FRESCO CAFE DINING BY LAND ART LANDSCAPE ARCHITECTURE
INFUSION TEA, EDGEWATER DRIVE, ORLANDO, FL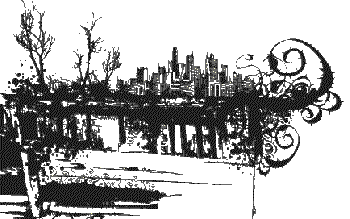 A BIT OF FREE ADVICE

Designing Storefronts for identity, iconic developmetn and lowering the chance of crime seems to be an unecessary evil, but proves to function in both residential and commercial situations. Below are some basic guidelines.

Avoid fluffy names for your business, names such as 'feather your koala bear' will not result in positive customer draw.

When considering signage design simple may be better, if in doubt use Helvetica font.

Opt for white when in doubt of color selection, not off white, but bright pure clean white. Sherwin and Williams will sell you super white.

Clean windows that are free of banners, posters or advertisements will be inviting to new customers and allow existing customers to feel safe while visiting your business.


DESIGNING FOR SAFETY AND SECURITY
Designing Storefronts for lowering the chance of crime seems to be an unecessary evil, but proves to function in both residential and commercial situations. Below are some basic guidelines.

Maintain premises and landscaping such that it communicates an alert and active presence occupying the space. Weed growth is an example of a sign of neglect. Clipped plants shows the opposite.

Provide trees, and more trees. Research shows that commercial spaces with more trees are seen as significantly more attractive, more safe, and more likely to be used than similar spaces without trees.

Avoid overly bright lights at night. Remember, the brighter the light, the darker the shadows, ergo more opportunities to hide.

Placing amenities such as seating or refreshments in common areas in commercial, institutional and recreational settings help attract large numbers of desired users. Invest in a bench!

Scheduling activities in common areas increases proper use, attracts more people and increases the perception that these areas are maintained, observed and controlled.

Avoid cyclone fencing, razor-wire fence topping or other foreboding barriers, as it communicates the absence of a physical presence of both police and citizens, therefore a reduced risk of being detected of criminal activity.

Acknowleding that you must qualify the design talent that you hire by insisting that they be licensed professinal landscape architects with the Florida Department of Professional Regulations.

read more via wikipedia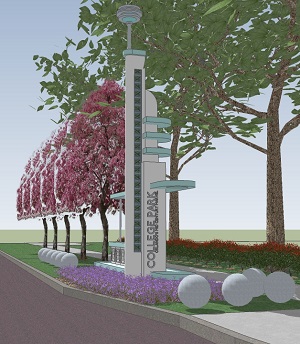 ENTRY FEATURE SIGN CONCEPT, COLLEGE PARK
EDGEWATER DRIVE AT COLONIAL DRIVE, ORLANDO, FL
COMMUNITY CODES AND COMMERCIAL LANDSCAPE ARCHITECTURAL DESIGN
Despite detractors, the Broken Window Theory proves to be a fact. The rejuvenation of American inner cities since the 1980s is the result of following the tenets of this concept. This theory caused codes to be adopted by most municipitalies nationwide and have been enforced ever since.

To sum it up, a visual degredation on any given street, such as an unreplaced broken window, encourages more neglect, littering, deliquency, malicuous property damage, etc. It sends a message that, in this area, no one really cares.

Homeowners and businesses often complain about the strictness and triviality of these laws, but no matter what location; the stricter the codes, the more desirable the neighborhood.






ICE CREAM PARLOR STOREFRONT



read more via wikipedia