LAND ART
LANDSCAPE ARCHITECTURE

PLANT LIST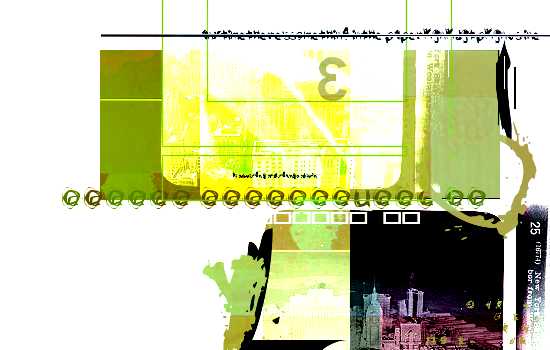 G R O U N D C O V E R S



Groundcovers, well, cover the ground. They are almost mandatory in Florida, where any bit of exposed earth would soon be populated by opportunistic noxious weeds. Groundcovers are also important in keeping the soil shaded and relatively cool and preventing erosion. Being low and horizontal, massed groundcovers have not only a calming, orderly effect, but also serve as a visual stepping stone, leading the eye towards taller plants.



MACHO FERN
Nephrolepis biserrata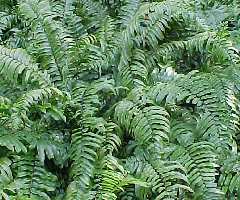 Ferns lend a feeling of shady, cool, woodsy enviroment. Thankfully, Macho Fern is rapidly replacing the invasive common Boston Fern in popularity. Macho Fern doesn't become yellow or brown during drought, nor is it difficult to weed out, as opposed to Boston fern. When grown well, the individual fronds can reach up to five feet, capable of adding a tropical rainforest touch wherever desired. Plus it has a cool name!


TRAILING LANTANA Lantana montevidensis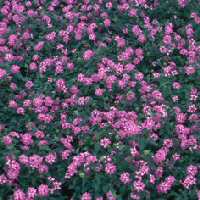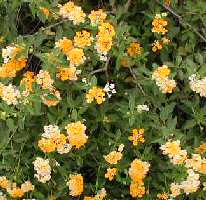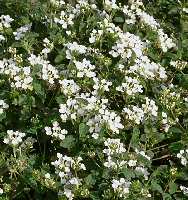 Trailing Lantana is a must-have for Central Florida landscapes. It's pest-free, drought tolerant characteristics makes them almost beg to be abused. Wherever there is sun, blistering heat and poor soil, Lantana merely chuckles. An uncommon trait among Florida's garden plants; Lantana blooms profusely all year long, just add sun. Available in a spectrum of colors and Butterflies adore them; what more can you ask for?

FIRECRACKER PLANT Russelia equisetiformis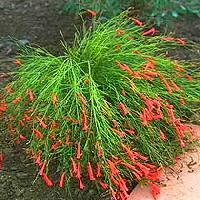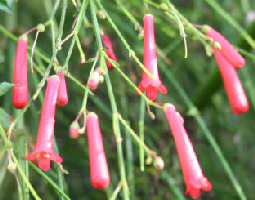 Firecracker is another no-care, no-pest flowering plant. Just give it some sun and it thrives and flowers all year long in Florida. Because of its fountian-like growth habit, it is best used as a single plant or as a low hedge. Hummingbirds call this plant 'Buffet'.

RAIN LILY Zephryanthes candida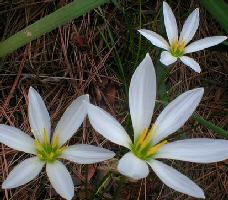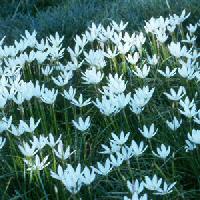 Rainlilles are a native to Florida and Texas. Landscapers as a rule never use these delights, perhaps because of their small size. The foilage looks nothing more than small blades of grass, so they can be used intermigled in lawns or just on their own in relatively traffic-free areas. Though they grow perfectly camouflaged in sod, after generous summer rains the blossoms appear seemingly overnight, turning expanses of green into drifts of flowers. Color ranges from pure white to viginal pink. Because they steadily spread and reseed, once incorporated, you can enjoy these for the rest of your life.



BLUE DAZE Evolvulus glomeratus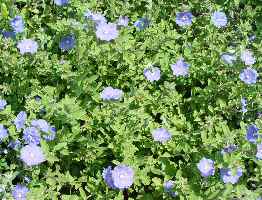 Blue is the rarest of flower colors, especially on plants found in Florida Landscapes. Blue Daze, blooming throughout any month that isn't cold, comes to the rescue. Always maintaining a low mounding shape, it can be clipped lightly or severely without any adverse effects or awkward appearence. Look for new shades of blue and white coming soon, courtesy of dedicated Horticulturists.

ASIATIC JASMINE Trachelospermum asiaticum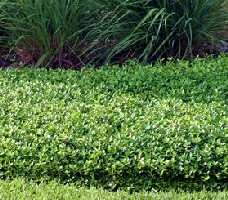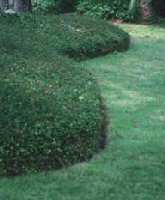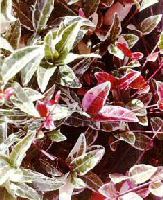 Asiatic Jasmine has been introduced in the Florida landscaping with superstar results. This evergreen jasmine, although blooming, is not grown for it's flowers, but for it's ability to be shaped into any horizontal mass. While pest-free and able to grow in sun or shade, a regularly clipping is required for the most formal of shapes desired, due to it's rambling growth habit. Also available in a tri-colored varigated form.

SOCIETY GARLIC Tulbaghia violacea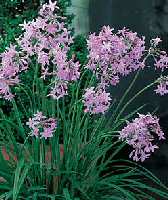 This airy, grassy appearing plant belies it's natural toughness. It worships heat and sun, two conditions obvious in Florida. The dainty lavender frowers are bourne thoughout the warm season in clusters, looking more temperate then tropical. Some people dislike the onionlike odor they produce when crushed, but no one claims you should be stomping all over your plants!

STAR SEDUM Sedum sarmentosum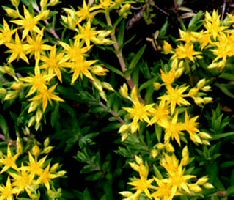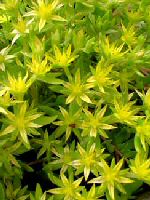 Northern Gardeners enjoy the beauty and versatility of hundreds of Sedum varieties, but only one, Star Sedum, can thrive in our Florida Climate. This plant can grow in various situations; sun, some shade, poor soil, even thriving on rocks. This spreader consists of dainty vibrant yellow-green foilage. The bonus is it's bright yellow star-shaped flowers held above it's low mounds. Totally pest-free.

JUNIPER Juniperus sp.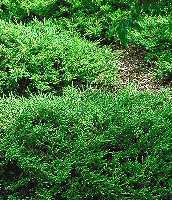 Sorry, Charlie. While we will incorporate junipers in your landscape plans if requested, and they do exhibit good garden characteristics, we tend to avoid them because of the dreaded Juniper-Apple Bagworm. Please do the same. SEDUM SARMENTOSUM