Licensed Landscape Architect and Consultants
Florida License No. 0001760

MORE PLANTS
about
projects
pools
plants
opinion
contact
main
MORE PLANTS
PERENNIALS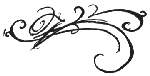 Perennials, in the true sense of the word, return in the garden every year. Florida's climate dictates that the rules are different here, marking perennials as a somewhat foggy description. Some die back when cooler weather arrives, some stand still during the winter, some keep plugging along all year 'round. A better label would be non-woody flowering plants. You decide.





DAYLILY Hemerocallis hybrids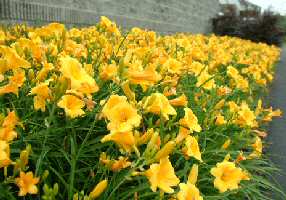 Some are evergreen, some have the look of wildflowers, some are bordello like. Avalible in a wide variety of warm shades, and hybridists are working on blue.
PENTAS Salvia coccinea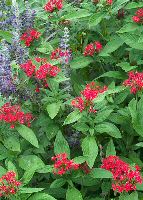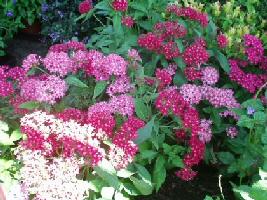 Butterflies come hither. Available in red, purple, white and all shades in between, Butterflies can't resist them. To keep the clusters of blossoms big and plentiful, periodic removal of spent flowers is recommended. They also benefit from a cutting back in spring, after the last danger of frost to keep their size in check. Otherwise there is no care needed for continuous flowers.
BUSH DAISY Gamolepis chrysanthemoides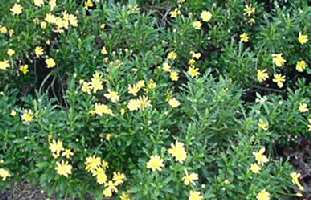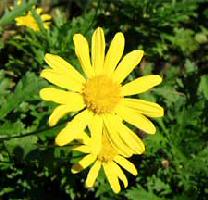 Included here as a perennial because the blooming slows in the winter. These ferny globular sub-shrubs are adorned with sunny yellow flowers almost all year 'round. Never growing out of bounds, these plants like to be well-irrigated for best performance.
RED TEXAS SAGE Salvia coccinea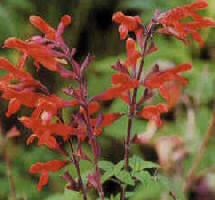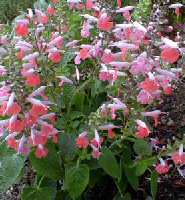 This Salvia doesn't have large blossoms, but the intense red color and the poliferation of the flowers makes it a showy subject when planted in groups or masses. While withstanding all sorts of situations, the plants mirror the conditions; short, compact plants in poor, dry soils, larger lush plants in rich, wet soils. An outstanding trait of this plant is that it reseeds itself readily; the more you grow, the more you will find it popping up everywhere, sometimes in white, peach, and bicolored, but could never be called invasive. Butterflies and Hummingbirds worship these flowers.
BLUE SALVIA Salvia farfinacea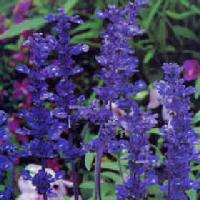 Another Salvia, not native nor self-seeding, but a true perennial when grown in good soil, blessed with a deep, vibrant blue color unmatched by any other flowing garden plant, but available in other colors as well. Blooms until cool weather arrives. Also a Butterfly magnet.
LILY OF THE NILE Agapanthus africanus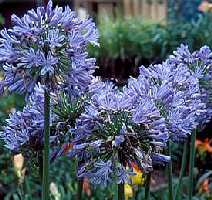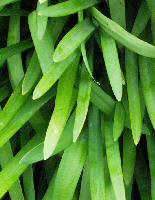 Agapanthus is so common in California landscapes, it is almost considered a weed. Not so here. Unexplainably, it is not used frequently in Florida. It's clear blue flowers held far above its beautiful pest-free foilage looks perfect in Florida gardens, never outgrowing their alloted space. While thriving in full sun on the West Coast, it enjoys sheltered locations in Florida. White, dark, and dwarf varieties are also available, yet can be hard to find.
TROPICANA CANNAS Canna 'Tropicana'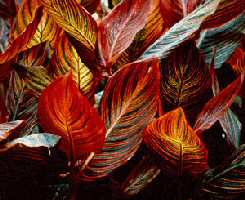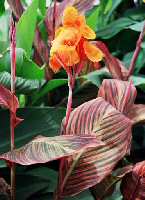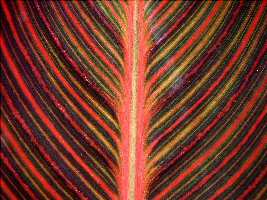 A recent introduction, Tropicanas far surpass the attractiveness of the common green form of Cannas. The foilage seems aflame with color, no longer solely reying on it's flowers for show. Tropicanas are best treated as perennials in our area, after the leaves decline with the onset of cool weather, they can be cut to the ground, where they spend their dormancy until the vigorous shoots reappear in March. Only recommended for rich, moist soils.
PALMS :: TREES :: TROPICALS :: SHRUBS :: GROUNDCOVERS :: ANNUALS :: PERENNIALS :: GRASSES :: VINES :: WATER PLANTS :: BROMELIADS :: SUCCULENTS